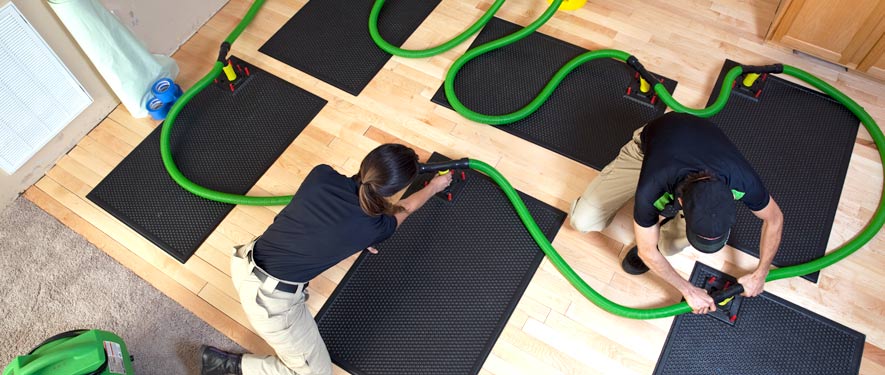 Step 4: Drying and Dehumidification
Our Water Damage Restoration Process
Upon completing the previous step of removing all of the excess water, we can begin the next step. The fourth step requires us to assess the damage that has been caused by the water. The way that we determine this is by using monitoring equipment that can determine moisture levels in all the materials in your home. This allows us to determine what drywall that may need to be cut in order to dry properly and prevent further damage.
Once we have prepared the area for drying, we set up industrial dehumidifiers and air movers as needed. This process can consist of moving around the equipment as needed depending on what our moisture measurement equipment tells us.
Drying / Dehumidification
Our Professionals will use room measurements, temperature, and relative humidity to determine the optimal number of air movers and dehumidifiers to dry your home or business. We'll carefully monitor the progress using moisture meters until the materials return to acceptable drying goals.
Use Dehumidification Equipment
Use Monitoring Equipment to Track Progress
Monitor Floor and Walls
We check the moisture levels to monitor the drying process. 
Monitor Floors
Monitor Walls
Drying Equipment
Industrial-grade dehumidifiers help prevent secondary water damage like swelling and warping of floors, walls, and furniture.
High-speed air movers create airflow across walls, carpets, pads, and furniture, which accelerates the evaporation of moisture.